Heraeus Kulzer has been a leading developer and manufacturer of high quality polymer products for both the medical and technology sectors for many decades. Resins used in medical and materials technology must be of high quality, easy to use and have dependable properties to ensure their successful employment. Heraeus Kulzer's polymers fulfil the highest requirements and are used as embedding resins for materials testing or as auxiliary materials in production techniques. They therefore occupy an important place in the everyday activities of modern laboratories and in manufacturing processes. The particular fields in which these polymers are applied determine the specific characteristics required of our products.Heraeus Kulzer's product portfolio, including its range of sophisticated polymers, has been setting standards with regard to quality and the efficient processing methods employed to work with these materials.
The umbrella brand name "Technovit", developed many years ago, has come to represent the expertise upon which the development, manufacture and applications technologies of a broad range of polymer products employing a variety of technologies are based.
The main emphasis of these products is their application in materials testing. The properties that are especially demanded are gapless embedding, transparency, time efficiency and easy application, as well as the highest possible degree of impression precision and form stability. Heraeus Kulzer fulfils all these requirements with its comprehensive Technovit programme.
For metallographic applications the following embedding resins are recomended
Kulzer Technotherm® 2000
Kulzer Technotherm® 3000
Kulzer Technotherm® 4000
Kulzer Technovit® 2000 LC
Kulzer Technovit® 4000
Kulzer Technovit® 4002
Kulzer Technovit® 4004
Kulzer Technovit® 4006
Kulzer Technovit® 4006 SE
Kulzer Technovit® 4071
Kulzer Technovit® 5000
Kulzer Technovit® 5071
Kulzer Technovit® EPOX
Kulzer Embedding moulds
For histological applications the following embedding resins are recomended
Kulzer Technovit® 7100
Kulzer Technovit® 8100
Kulzer Technovit® 9100
Technovit 7100
Technovit 7100 is an embedding resin system based on 2-hydroxyethyl-methacrylate (GMA). Glycol methacrylate is used in the field of histology to embed tissues (medicine, botany, zoology and industry) for light-microscopy studies.
The polymerisation of GMA is initiated by means of a barbituric acid derivative in combination with chloride ions and benzoyl peroxide. The catalyst does not contain aromatic amines, which can be regarded as an advantage compared with already existing systems which are based on peroxide/aromatic amines. The system provides clear resin blocks from which 1 to 2µ sections are obtained.
Technovit 8100
Technovit 8100 is a new combination of a less toxic and nearly odourless plasticiser and a water miscible resin. Technovit 8100 can be used for the embedding of all kinds of medical and botanical tissues, particularly immunohistochemistry examinations of lymphatic tissue (lymphatic nodules, thymus, spleen, tonsils), liver-kidney-bone biopsies.
Technovit 9100 NEW
Technovit 9100 NEW is an MMA (methyl methacrylate)-based embedding resin system. It can be used specifically for embedding mineralised tissue, but also for soft tissue.
The Technovit 9100 NEW system expands the range of light-microscopy studies:
Dense-section technique with the production of thin sections
Cutting-grinding technique (separating method in point contact technique)
Combined cutting-grinding technique and dense-section technique (target preparation).
Histoform S & Q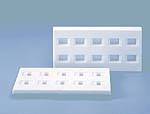 Teflon embedding moulds with 10 troughs each for polymerising Technovit 7100 and 8100 resins. The special profile of Histoform S enables user-friendly specimen embedding of specimens up to 10mm wide x 16mm high x 6.5mm deep. Histoform Q is used for larger specimens up to 20mm wide x 16mm high x 10mm deep.
Histoform N
Teflon embedding mould with 4 troughs and cover plates. Specifically for polymerising Technovit 9100 NEW.
Microscope Slide Press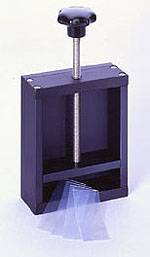 Metal press for pressing the MMA sections flat on the slide during the drying procedure.
Cover Films
Polyethylene film for covering the MMA sections on the slide after spreading (Technovit 9100 NEW), format: 25 x 75 mm
"Kulzer Histobloc" and "Histobloc for Histoform N" Carriers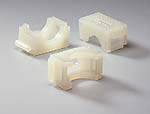 Histobloc is the reasonably priced single-use version for the simple, secure, and durable fixing of elastic, completely polymerised embeddings. Technovit 3040 is used for the fixing.
The Histoblocs can be stacked against one another for storage and archiving.
Kulzer Histoknife & Knife Holder
Histoknife H is used in a reliable, extremely stable knife holder.
The knife holder can be screwed into the corresponding fitting on the rotary microtome.
The Histoknife H universal disposable microtome knife has a cutting angle of about 45°. It is suitable for cutting tissue embedded in HEMA, soft resins, fibres and fabrics.
Technovit® 3040
Technovit® 3040 is an MMA-based fast-curing resin.
For blocking and fixing specimen embedded in Technovit 7100 or Technovit 8100, on the Histobloc.
Technovit 4000 and 4004
Technovit 4000 is a fast polymerising cold curing three-component resin based on modified polyester supplied as powder, syrup I and syrup II.
Technovit 4000 is suitable for the gap-free embedding of specimens: that are difficult to embed because of their shape or coating that cannot be exposed to high temperature or pressure which require(s) fast and accurate testing which the embedding material must be abrasion-resistant.
Technovit 4004 is a fast polymerising cold curing two-component resin supplied as powder and liquid.
Technovit 4004 is suitable for embedding specimens which require a transparent embedding for fast routine work.
Examples of Technovit 4000 and 4004 embedded specimens
Technovit 4004
Technovit 4000
Technovit 4071/5071
Technovit 4071 is suitable for embeddings which must beembedded very quickly and where simplehandling is important.
Technovit 5071 is suitable for embeddings in which can be dissolved in acetone that must be carried out very quickly.
Technovit 4071 specimen
Technovit 5000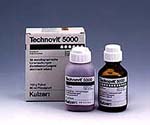 Technovit 5000 is a fast curing resin based on methyl methacrylate. Copper particles are the conducting element.
Technovit 5000 is suitable for embedding specimen which are being examined in the scanning electron microscope are electrolytically polished are being studied in microprobes should not be exposed to extremely high temperatures or mechanical pressure.
Technovit 5000 specimen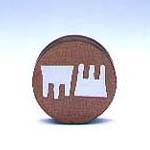 With the Technotherm Heraeus Kulzer offers state-of-the-art warm embedding material which meets the highest demands.
To offer a clear product range we have first focused on three different products.
Technotherm 1000
Technotherm 1000
is an inorganically filled yellow-brown
embedding resin
. It attains a high degree of hardness and good edge definition.
Technotherm 1000
has optimal machining properties and is resistant to all customary etching and cleaning agents used in the laboratory.
Technotherm 2000
Technotherm 2000 is a inorganically filled glass-fibre-reinforced resin, in a white/grey colour. Technotherm 2000 attains a high degree of edge definition for gap-free embedding. Because of its outstanding melt properties during the embedding procedure, Technotherm 2000 penetrates deeply into porous surfaces or specimen undercuts. It is THE universal warm embedding resin. Technotherm 2000 is resistant to all customary etching and cleaning agents used in the laboratory.
Technotherm 3000
Technotherm 3000 is the electrically conductive resin in the Technotherm line. The graphite-filled resin has outstanding electronically conductive properties. Technotherm 3000 is employed for the embedding of specimen to be examined under the SEM (scanning electron microscope). In the SEM studies, voltage losses are almost eliminated with Technotherm (less than 0.5%).
Technotherm resins cure at 160 – 180 °C and 80 – 90 bar in 11 – 15 minutes, depending on the diameter of the embedding cylinder in the press.
Technovit 2000 LC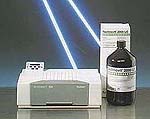 Technovit 2000 LC
is a one-component resin based on monofunctional and
difunctional methacrylate. Technovit 2000 LC polymerises
under blue light in the
Technotray CU
unit.
Technovit 2000 LC
was developed especially for the testing or preparation of sensitive materials and micro-parts. The main fields of application are
semiconductors, microelectronics, medical instrumentation, optoelectronics,
and
microsystemtechnique
.
Its most important advantages are:
Almost unlimited processing time without time constraints
No danger of premature curing
Material can be cured in several layers
Very good transparency, extremely low gap formation
Bubble-free, odour-free
The comparatively low polymerisation temperature is about 90°C and can be reduced further if the embedding is carried out in several layers.
Use of the Technovit 2000 LC covering varnish is recommended to prevent a "dispersion layer" (smear layer on the surface).
Polymerisation is carried out in the Technotray ® CU device.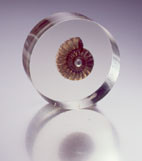 Technovit 2000 LC specimen
Technotray ® CU
This blue light polymerisation device is tailored specifically to the properties of Technovit 2000 LC. The polymerisation temperature is about 90°C.
Technovit 3040
Technovit 3040 is a fast-curing cold polymerising resin based methyl methacrylate supplied as powder and liquid.
Technovit 3040 is used as an auxiliary agent in indirect surface testing in mould and tool-making, as well as in measuring technology.
Technovit 3040 is a special resin for preparing replicas and mouldings. The replica accuracy is 1 micron.
With Technovit the condition of surfaces can be checked indirectly the condition of surfaces can be preserved and recorded negative moulds – e.g. of silicone or plaster – can be filled up, to produce obtain a positive of a possible defective zones positives can be produced by double reproduction (Technovit impression of Technovit).
Example of a replica

Grinding and Polishing System
The "New Lam" grinding/lapping system
The "New Lam" grinding/lapping system is a complete high-performance and high-quality preparation system. It enables the preparation of almost all materialographical specimen, with highly informative results.
Most important advantages:
wide range application
High cost-effectiveness
Prepared specimen are high-quality and yield more information
Long service life of the products
All products also usable individually.
Grinding/Lapping Discs – Grinding/Lapping Foils
Grinding/Lapping Discs The patented New Lam Lapping Discs and Lapping Foils consist of a composite of synthetic resin-bonded metal powder mix with cylindrical, but softer, metal powder inclusions.
The resulting special surface structure causes the diamond grains to be jammed more or less strongly on the disc during the lapping, and thus changes their rolling or cutting behaviour.
Grinding/Lapping Foils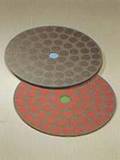 Grinding/Lapping Foils If the specimen are small, self-adhesive lapping foils applied to a carrier disc can also be used.
The quality of the results is absolutely identical. Lapping discs and lapping sheets can be used on all modern grinding machines.
Most important advantages:
Wide range application
High cost-effectiveness
Prepared specimen are high-quality and yield more information
Long service life of the products
Also suitable for magnetic systems
Polishing Discs

Various cloths are available. The back of the polishing disc is self adhesive, it can be easily attached and removed from any carrier (metal, PVC)
Most important advantages:
Wide range application
High cost-effectiveness
Prepared specimen are high-quality and yield more information
Long service life of the products
Diamond Grinding Discs


The "Classic" diamond grinding discs from Heraeus Kulzer are proven over many years in metallographic and mineralogical laboratories everywhere.
The diamond grinding discs excel in their high resistance to wear.
Diamond Liquids


Diamond liquids are part of the New Lam system. They are optimally tailored to the grinding/lapping or polishing discs and foils.
Their colour coding offers an increased degree of security during use.
Most important advantages:
High diamond content
Low grain size scatter
Minimum graduation of individual components
Embedding Moulds/ Embedding Aids
Embedding Moulds
Polyethylene moulds in various sizes for pouring out material specimen have proved particularly useful in practice.
Their slightly conical form and high strength levels ensure easy release and long useful life.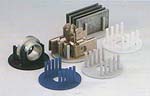 Embedding Aids
During embedding it is often necessary to fix the specimen with great precision.
Different land widths make a wide range of applications possible. Using this method, specimen of many different kinds can be fixed securely and timesaving.
FAS®, FAS-M®, Fix Lam®, Aluminium Support Discs
FAS (Fast Attached System)
FAS makes it possible to change self-adhesive polishing discs, grinding / polishing foils and diamond grinding discs quickly and rationally.
FAS is simply glued to the support disc of the grinding and polishing machine.
The surface qualities of FAS facilitate unlimited, residue-free changing.
FAS-M
The FAS-M disc represents a further development of the FAS disc for magnetic systems.
The FAS-M disc offers the same advantages as the FAS disc.
Please click on the picture for a detailed description.
No glue residues.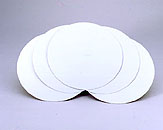 Fix-Lam
Fix-Lam is a disc for attaching on and removing SiC glass papers that are not self-adhesive.
Support Disc
We make aluminium support disc to customer order in the diameters 200 mm, 250 mm and 300 mm.
Manual Specimen Holder, Universal Specimen Holder
Manual Specimen Holder
An aid for absolute "flat grinding" of metallographically specimen.
Sample abrasion can be adjusted precisely using the scaling feature.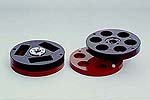 Universal Specimen Holder
The universal specimen holder consists of two parts. The upper part is suitable for direct attachment to the driving shaft of the automatic grinding and polishing equipment. The lower part, made of silicone rubber, is used as the embedding mould.
Handling is simple and saves time and money. One work step is eliminated.