Kulzer Technovit® 7100
SHOP NOW or contact us for a Quote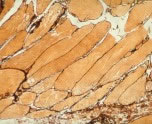 Technovit® 7100 is a plastic embedding system based on HEMA* (2-hydroxyethyl methacrylate). The hydrophilic resin is used in medicine, botany, zoology and industry for embedding tissues for light microscope studies. The sections can be used for histological staining and enzyme detection.
Technovit® 7100 embedding resin polymerises in a transparent state and uniform thin sections can be prepared using a standard rotary microtome. It is not necessary and also not possible to elute the plastic out of the block and the section.
Material properties
The chemical polymerisation of Technovit® 7100 embedding resin is initiated using a barbituric acid derivative in combination with chloride ions and benzoyl peroxide. The catalyst system does not have any aromatic amines compared to traditional systems.
Overview of the benefits
Uncomplicated handling
Reproducibility and reliability of the embedding due to the constant, documented quality controls of the individual components
Low polymerisation temperature due to Teflon embedding forms
Equal hardening of the block, thus uniform and thinnest possible sections
Low shrinkage artefacts, thus excellent tissue morphology
In addition to routine staining, enzyme detection is also possible
Less toxic due to catalyst made of barbituric acid
Polymerisation at room temperature (20°C)
Airtight sealing not necessary during polymerisation
Decalcification not necessary for haematological illiac crest biopsies
Application
Prepare Technovit® 7100 embedding resin in accordance with the step-by-step instructions. First place the fixed and dehydrated specimens in the pre-infiltration solution and then in the infiltration solution. Vacuum intervals and/or agitation during the individual steps accelerate the embedding process. Specimens for industrial application are placed directly in the infiltration solution or hardened without pre-treatment.
Polymerisation
Prepare the polymerisation mixture according to the instructions and then fill the embedding cavities. Immediately position the infiltrated specimens therein. Polymerisation occurs at room temperature.
Polymerisation temperature in the Histoform S mould will be 32°C – 38°C and the Histoform Q mould 40°C – 45°C
Block after hardening (approx. 1½ hrs.) with Histobloc® and Technovit® 3040.
HEMA is also known as GMA (Glycolmethacrylate)
Other fields of application
Technovit® 7100 embedding resin is routinely used for embedding and sectioning other materials such as:
Plastics
Films
Paper
Textiles
Organic preparations
Fibres
Material properties
In cases where material science specimens are sectioned for examination under a light microscope, using Technovit® 7100 embedding resin facilitates sections in the µm region using the appropriate microtome, blade and blade holder. These types of preparations are only slightly different from biological specimens and many cases it is not necessary to place them in the preparation solution, as is the case with films and plastics.
Instructions for embedding non-medicinal tissue specimens
Infiltration in the preparation solution with vacuum is recommended for paper and textiles
Biological preparations are medically handled (fixed, dehydrated and subsequently infiltrated)
Materials that are less temperature-sensitive can also be embedded as large specimens (Histoform S and Q, or similar)
Product data
Item No.
64709003 Technovit® 7100 embedding kit, includes:
1 x 500 ml basic solution
5 x 1 g hardener 1
1 x 40 ml hardener 2
Technical data
Colour: Transparent
Thickness = spec. weight g/cm3: 1.07 (DIN 53479)
Refractive index:
Monomer: 1.4540
Polymer: 1.5050
Storage temperature:max. 25°C
Shelf life: 2 years