Kulzer Technovit® 8100
SHOP NOW or contact us for a Quote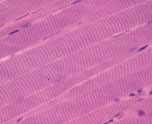 Technovit® 8100 is a HEMA-based plastic-embedding system for studies with light microscopy. It is suitable for embedding all tissues in medicine, zoology and botany. Sections of decalcified or briefly decalcified iliac crest biopsies and implanted biomaterials can also be used for enzyme chemistry and immunohistochemistry.
Material properties
Technovit® 8100 embedding resin is a combination of a practically odourless plasticizer and a hydrophilic plastic. Technovit® 8100 embedding resin was specifically developed for cold polymerisation (+4°C). The polymerization process is oxygen sensitive, therefore the embedding form must be hermetically sealed to exclude oxygen.
Overview of the benefits
Reproducibility and reliability of the embedding due to the constant, documented quality controls of the individual components
Low polymerisation temperature of 10°C to 0°C due to the special catalyst system and the Teflon forms
Equal hardening of the block, thus uniform and thinnest possible sections
Low shrinkage artefacts, thus excellent tissue morphology
Routine staining, enzyme detection and immunohistochemistry possible
Haemotological iliac crest biopsies do not need to be decalcified
Low toxicity due to special combination of plasticizer and catalyst system
Application
Prepare Technovit® 8100 embedding resin in accordance with the step-by-step instructions. Place the fixed and dehydrated specimens in the infiltration solution. A low temperature and constant agitation of the specimens is beneficial during the entire embedding process.
Polymerisation
Prepare the polymerisation mixture according to the instructions and then fill the embedding cavities. Position the infiltrated specimens there-in and hermetically cover the cavities with films. Place on a pre-cooled gel plate or thin layer of ice at 4°C to polymerise.
The films are removed after polymerisation is complete and blocked with Histobloc® and Technovit® 3040.
It is not possible to elute the plastic before staining or reaction.
Product data
Item No.
64709012 Technovit® 8100 embedding resin Combipack, includes:
1 x 500 ml basic solution
5 x 0,6 g hardener 1
1 x 30 g hardener 2
1 x 500 pcs. PE films
Technical data
Colour: Transparent
Thickness = spec. weight g/cm3: 1.08 (DIN 53479)
Refractive index:
Monomer: 1.4485
Polymer: 1.4990
Storage temperature: max. 25°C
Shelf life: 2 years