Arizona Carbon Foil Co. Inc.
Carbon Foils accurately characterized, in any thickness you need.
For more than 47 years (since 1970), ACF-Metals, The Arizona Carbon Foil Co. Inc. has been dedicated to providing accurately characterized ultra-thin foils and coatings of carbon in thicknesses less than one micron and up to a few microns thick.
Carbon foils made by ACF-Metals are used in nuclear, space, physics, time of flight studies, optical, chemical, medical and microscopy research. These are the most common stripper/extractor foils ( charge-changing foils) and target supporting foils involved in manufacturing and research using particle accelerators.
For Accelerator users worldwide.
Amorphous carbon foils of highest purity, uniformity, and stability.
Natural isotopic composition: carbon-12 with 1.1% carbon-13.
0.1 µg/sq.com up to 2000 µg/sq.com always in stock with ACF Co. Inc. Custom shape, size and areal density specifications.
On glass substrates, freestanding or mounted.
Polycrystalline Graphite (PCG) foils are as efficient as amorphous carbon foils and have in-beam lifetimes competitive with arc-evaporated foils.
Easier to handle.
All standard thicknesses 400 µg/sq.com to 20 000 µg/sq.cm are kept in stock with ACF Co. Inc. at all times
Mounted stripper/extractor for extended lifetimes.
Arc evaporated foils and PCG foils.
Multiple fork styles available.
Fork material, Al or Graphite.
Guaranteed delivery to Australia or New Zealand without damage.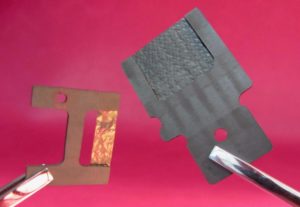 The ACF-Metals comprehensive range of products encompasses the following:
Arc Evaporated Carbon Foils
Polycrystalline Graphite Foils
Polycrystalline Graphite Foils, custom sizes
Electron Microscopy Carbon Foils "EM Ultra Smooth Films" (limited quantities)
Carbon foils on TEM grids
Mounted Foils (EUV and X-Ray Filters)
Optical Attenuator "Rectangular Filters" (limited quantities)
Carbon Foils on Cyclotron Forks
Detailed descriptions on these products can be found in "ACF-Metals Product Descriptions and Technical Information" brochure.
For additional information and prices for any product described in the Technical Information brochure, please Contact Us.