OLYMPUS Life Sciences is dedicated to meeting and exceeding the evolving needs and expectation of life science professionals through a comprehensive range of clinical research, educational, and life science research microscopes and microscope systems.
Life Science Research
OLYMPUS is dedicated to your work, your vision, your science. Whether you need simple brightfield or darkfield imaging, fluorescence, or elaborate 4D analysis for your research, we offer a variety of upright, inverted, stereo, confocal, multiphoton, and super resolution solutions built with the proven optical and application expertise your research depends on.
Clinical
Ergonomic design and leading-edge optics define our Clinical products, making our upright microscopes ideal for routine daily use. From pathology to cytology, Olympus microscopes provide outstanding optical performance optimized for the clinical laboratory workspace.
Education
Our microscopes offer versatile solutions for every microscope classroom. Designed to exceed teaching and training requirements, they feature high durability so they can endure tough use, high optical performance that provides clear images, and high image flatness over a wide field of view. Easy to operate, maintain, carry, and store, these systems are cost-effective and practical solutions for any science classroom. Discussions and lectures using a monitor or projector are supported and enhanced with our line of digital color cameras for microscopes.
For more information about the full range of OLYMPUS products, please contact us.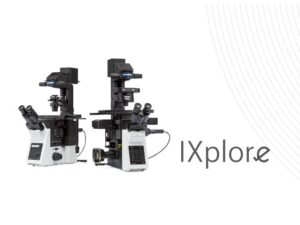 Whether working with fixed samples or imaging live cells, discovery is challenging. Each system in the IXplore series is tailored to fit a specific research application in order to help scientists more efficiently accomplish their goals. IXplore systems provide accurate, reproducible images, and data, and can be adapted as experimental needs evolve or become increasingly complex over time.
IX73 Inverted Microscope
Expandable to meet growing research needs.
The semi-motorized IX73 is designed to satisfy a variety of research needs. With two deck options and additional modules for expanded functionality, the IX73 is perfectly suited for a changing research environment.
SZX10 – Research Stereoscope System
Cost-Effective Performance and Accurate Image Reproduction.
A flexible imaging tool for routine research, the SZX10 stereo microscope offers darkfield and polarization imaging, a maximum numerical aperture of 0.2, a 10:1 zoom ratio, and a Galilean optical system that minimizes distortion.
Choice of Suitable Contrast and Observation Methods. Choice of High-Performance Objectives.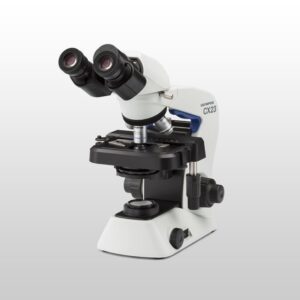 CX23 – Educational Microscope
Focused on improving workflow for educational microscopy, the CX23 upright microscope requires minimal setup
Built with students in mind, the CX23 microscope is not only durable but also reliable. It is easy to carry around the classroom because of these design elements:
Small footprint
Lightweight
Ergonomic non-slip carrying grips
Safety features help ensure that the eyepieces, observation tube, objectives, and stage are protected from damage while it is transported or during prolonged and repeated use.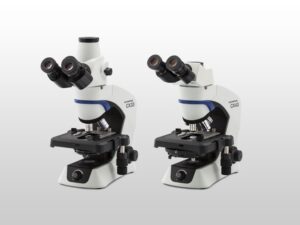 CX43 / CX33 – Biological Microscope
CX43 and CX33 biological microscopes enable you to remain comfortable during long periods of routine observation. The microscope frame conforms to your hands, and the location of the control knobs maximizes ergonomics to improve work efficiency. With minimal movement, you can quickly set a specimen with one hand, while adjusting the focus and operating the stage with the other hand. The microscopes can also feature an optional camera port for digital imaging.
Automatic Cell Counter R1
Fast, Accurate Cell Counting Streamlines the Cell Culture Process. Click here for more information.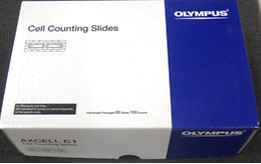 R1 Counting Slides, R1-SLI
Cell counting slides exclusive for Olympus Cell Counter model R1.
2 chambers  with 10 µl volume available per slide.
50 slides for 100 counts.