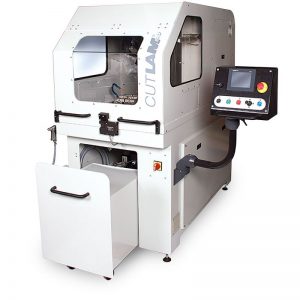 Product Description
The Cutlam 5.0 is a pedestal-mounted cutting machine with an integrated recirculation/decanter tank.
All cutting modes are available when using the Cutlam 5.0, including:
Automatic or manual cutting
Automatic sequential cutting for maximum cooling
Plunge cutting, horizontal feed cutting and oscillating cutting
Repetitive parallel cutting
Continuous automatic cutting with ingenious feed speed control.
Continuous automatic cutting with feed speed control is where the feed speed is pre-set and will be automatically reduced if the load on the cutting wheel increases. The pre-set speed returns once the load on the screen decreases. This improves the quality of the cut by limiting the thermal damages over the samples, prevents the wheel from breaking in case of overload and allows the user to work at maximum speed without any risk of damage. This is suitable for irregular samples and/or material with heterogeneous hardness.
Other features:
Fitted in standard with a Ø 355mm wheel, which produces an automatic vertical and longitudinal movement
Optional cross-feed table for an automatic transverse movement
Intuitive and user-friendly interface
High-capacity (140 litres) independent cooling/recirculation system is located under the machine
Fast and easy to clean
Features & Specifications

Wheel Ø:
300 to 400mm
Shaft Ø:
Standard flanges Ø:
100mm

Max cutting capacity:

Ø 154mm or 145 x 160mm or 90 x 275mm (with a Ø 400mm wheel) + right and left opening for long parts
Passage under the wheel:
190mm (Ø 400mm wheel)

Vertical movement:

Manual

Lubrication/cooling:

Recirculation system, 140 litres, on casters Cleaning system integrated, with a shower head outside of the cutting chamber

Motor power:

5.5 kW
Variable, from 1000 to 4000 rpm
Table:
Double groove treated cast iron, 400 x 400mm

Type of groove:

T groove 12mm (6 longitudinal, 5 transversal)

Display:

LED

Protection:

Cover with locking system

Body:
Epoxy painted coated steel
Pneumatic feeding compressed air:
Electrical power:
6 kW cumulative
Electrical consumption:
24 Ah
Voltage:
400 Volts – 50 Hz (three-phase)
Dimensions:
W x H x D 818 (+ 300mm with control panel) x 1802 x 1280mm
Weight
750kg