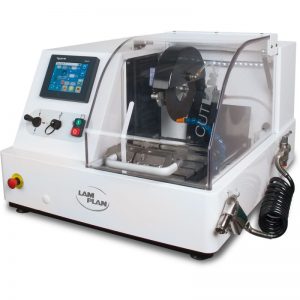 Product Description
The Cutlam Micro 3.0 is designed with a multiple motion table, the cutting wheel and the feed speed control system according to the cutting torque allowing the machine to overcome any precision, long and difficult cuts.
When using the Cutlam Micro 3.0, the feed speed is pre-set and will be automatically reduced if the load on the cutting wheel increases. The pre-set speed will return when the load on the wheel decreases. This improves the quality of the cut by liniting the heat damage on the samples, as well as preventing the wheel from breaking in the case of overload. It also allows the user to always work at the maximum speed without the risk of any damage. The feed speed control feature makes the Cutlam 3.0 suitable for irregular samples and/or materials with heterogeneous hardness.
Large capacity, compact cutting machine
Precision – the Cutlam Micro 3.0 makes cuts which are 0.01mm accurate
User-friendly interface
Powerful motor of 1.1 kW
Sequential cutting mode for a maximum cooling
Optional cross-feed table (X axis) manual or motorised for repetitive parallel cuts
Independent lubrication/cooling system, composed of a 100 µ washable filter, and a 30-litre sedimentation tank with multi-point nozzle, which ensures cooling of the sample and the cutting wheel during intensive use.
Features & Specifications

Wheel Ø:
75 to 230mm
Shaft Ø:
12.7mm
Standard flanges Ø:
75mm
Passage under the wheel:
50mm (with a Ø 230mm wheel)
Vertical movement:
Z axis 100mm automatic
Longitudinal movement:
Y axis 270mm automatic
Transversal movement:
X axis 55mm manual of 50mm motorised (optional)
Lubrication/cooling:
Decantation tank, 2 chambers, input 100μm filter, Pump 800 L/hour driven by the machine
Motor power:
1.1 kW
Rotational speed:
Varible, from 1000 to 4000 rpm
Cutting modes:
Manual, semi-automatic, automatic
Feed speed control:
0.1 to 29mm/second programmable. Automatic control of speed / power continuous or sequential
Display:
Protection:
Transparent cover with locking system
Voltage:
230 V – 50 Hz simple phase
Dimensions:
W x H x D: 620 x 470 x 750 (H cover opens 812mm)
Weight:
80kg